Melbourne's Best in High Quality Australian Fencing
Based in the foothills of the Dandenong Ranges, 32km east of Melbourne's Central Business District in Rowville, New Style Fencing operates as one of Melbourne's best providers of steel boundary fencing. Established in 1998, our team of fencing experts have a long and successful history of providing reliable, safe and aesthetically pleasing fences. Our services have been crafted to meet the rising population of greater Melbourne and, as such, New Style Fencing has been able to consistently provide a high standard of product quality over time.
At New Style Fencing, our priority is to provide you with the ideal fence for your individual situation. Due to this way of thinking, we work to provide our customers with trusted brands such as Colorbond® and BlueScope®. This commitment to quality enables us to ensure that your "new style" fence requires very little maintenance, whilst adding considerable value to your property. In addition to this, we offer a vast range of fencing options to accommodate your preferences and budget whilst also offering a range of additional extras to personalise your fence. Here at New Style Fencing, we have all the capabilities to provide you with professional tradesperson who can install your new fence, so that your needs are met as soon as possible. So, come and have a look at our showroom or call our team to organise your "new style" fence, today!
---
Our Affordable Fencing Solutions
Tubular Fencing
Manufactured from galvanised steel tube, our quality tubular steel fencing range has something for everyone, with our range of colours and designs.
Steel Fence Sheets
At New Style Fencing, we offer sheeting profiles. In addition to this, we offer both a Colorbond® and economy alternative sheet – both of which are made from Australian BlueScope ® steel.
Colorbond® Steel fence infill sheets feature:
A BHP ZINCALUME®

zinc/aluminium alloy coated steel base.

A conversion layer – chemically applied to enhance coating adhesion.
An epoxy primer baked onto the surface.
A durable, exterior grade baked on top coat.
A 10-year warranty.
Aluminium Slat Screening
Looking for something a little different? How about our Aluminium Slat fences?
Easy to install, with no requirement to weld or rivet the product.
A range of slat colours and imprinted textures to choose from.
Timber impression has over 5000 different images, so likelihood of imitation is marginalised.
Resistant to weather damage and consists of a scratch and dint resistant coating.
Customisable for residential and commercial projects.
Can be utilised in gate form.
Easy to transport.
Use something like the photo below: I dropboxed it on the 28/06 under aluminium slats.
---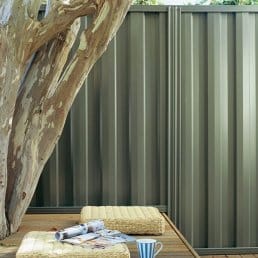 Australian Made
At New Style Fencing, we back Australian companies and their products. Our sheet metal fences and our aluminium slats are both proudly Australian made, living up to the highest tests of quality and performance.
---
"Pick up now" service
In a rush? Our "pick up now" service will have you covered! We hold a vast range Of stock so that your Colorbond® fencing needs can be fulfilled within a short amount of time, This process has been streamlined so that have all the material that you will need you have everything ready for your job.
Delivery service
We offer local delivery service, which means your fencing products can be delivered right to the site of construction, to make the installation process more productive than ever.
Easy to maintain
Made to last
Looks great
Comes in a wide range of colours
Secure and private
A good choice for the environment
Backed by BlueScope Steel
Don't Just Take Our Word For It
Nice fencing and great prices.

Great service. Puts a smile on your face. Often get a laugh as well!

Really impressed with New Style Fencing's range of fences and the customer service. They walked me through the best options for my needs and budget, and I couldn't be happier with the end results!
Fire resistant fences
Wherever you live in Australia, fire resistant materials are becoming increasingly important. COLORBOND® steel has been subject to vigorous testing under all exposure conditions, including potential effects of an adjacent house fire.
Termite Resistant Fences
A COLORBOND® steel fence won't rot or be susceptible to termites. This gives you ultimate peace of mind, knowing that your steel fences won't fall victim to pesky termites.